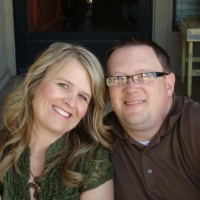 Dr. Justin Ford
Senior Pastor
Everything that is alive, grows
Everything that grows, changes
Change causes pain every single time
If you're anything like me, it has always been easier to stay the same than to go through the pain of change that can lead to growth. But the story of my journey with God has been defined by Him constantly challenging me to grow personally and to spur others to take steps in His direction because I believe that the life God offers is worth the pain of change.
Although I grew up in and around the church, it wasn't until I was a teen that I finally realized my need to put my faith in Christ as Savior. A couple of years later I would surrender my life to Pastoral ministry, and around the same time meet my future wife, Christine. Together we set out on a journey of faith that, after 14 years of serving in churches across the state, would ultimately bring us to Edmond Oklahoma. At Oakdale Baptist Church we would plant deep roots for our children, Makenzie and Josh and invest in the community around us. Our time at Oakdale has been the most challenging and rewarding of our ministry. There has been change. There has been pain. There has been growth. But most of all, we have experienced LIFE in Christ that has made it all worthwhile!
Oakdale, itself has undergone incredible changes in the past 10 years. From a small, rural, family church to a growing community church, God has given us a new direction. Today we are a church with a unique opportunity to impact its community and beyond. While we have not "arrived" at any of the goals we feel God has set before us, we have grown in EVERY single area. We believe that God has only just begun to do great things in our church.
If your family is searching for a church at this time, we invite you to come and experience what God is doing here at OBC. Come and worship with us. Come and study with us. Come and get to know us. But most of all, come and get to know the God that we are experiencing every time we meet together!
Contact Info
Email: justinfordoakdale@gmail.com
Phone: 405.771.3392