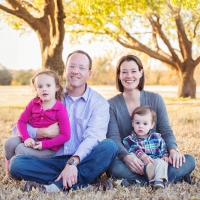 Jami Smith
Worship Pastor
I was raised in the small town of Chickasha, Oklahoma. My childhood memories include expansive wheat fields, ATV riding with my brothers, and singing in my hometown church, Sharon Baptist Church. I encountered God's unconditional love and grace as an 8th grader and that is when I accepted Christ as my savior. As I grew in my relationship with Him and His word, I realized that He also wanted to be Lord of my life. This took me on a journey that at age 16, would mean that I gladly surrendered to ministry. I had no idea at the time what God had planned for me. I knew my plan wasn't His so I moved away from the dream of being a performer and into a deep desire to see people interact with the very God of the Universe through music in worship and adoration and praise. I envisioned people enjoying God with music as their backdrop.
When in college at Oklahoma Baptist University, God's plan for me was made clear; He had called me to be a worship leader. So, what was once a dream, turned into a reality as I was, and still am, able to watch Him be praised and worshipped around the globe. I have been blessed to witness hundreds of thousands of faces worshipping Him for the last 20 years as I have traveled all over the world leading worship at retreats, camps, churches and conferences.
My husband, Justin King, and I believe it is an honor and privilege to be serving the local body of Christ here at OBC. From the moment we walked in for the first time we saw a church that is warm, friendly, community seeking, and a people that want to know God, love Him, and serve others. We even found that our two children Emory and Griffin are so loved and taken care of here too.
We are not a perfect church and we are not a perfect people. We are just people striving to be more like Christ and enjoy His intense love for us. I hope you will come and worship with us, open your heart to the love of Christ, expressed so beautifully on the cross and enjoy the community of believers striving to share this love that has made such an impact on my family and I.

Contact Info
Email: jami@jamismith.com
Blog: http://www.jamismith.com